Face Coverings and Voluntary Use Respirators (N95s) Distribution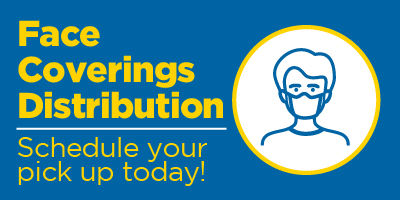 Face coverings and N95s may be picked up from EHS and/ or selected campus locations indicated below.
WHERE:

Environmental Health & Safety Department (4600 Health Sciences Road - Building 41 on the campus map)



DATES:

Monday - Friday
8:00 a.m. - 4:00 p.m.



For faster service, please email us at safety@uci.edu or call (949) 824-6200.


Distribution and use of Voluntary Use Respirators (N95s) Related to COVID-19 Protection

Pursuant to the Chancellor's Executive Directive on Face Coverings:

Upon request, UCI will provide voluntary use respirators, (i.e., N95s), to unvaccinated employees, and to anyone regardless of vaccination status.  Prior to receiving an N95, employees must complete a brief training in UC Learning Center (search for "N95 Voluntary Use").   

Supervisors are responsible for ensuring that employees who are obtaining and wearing voluntary use respirators take the required training in UC Learning Center.

Once you have taken the training, please retrieve N95 respirators from the following locations around campus:

Engineering and Computing Trailers
Environmental Health and Safety Front Desk
Med Sci C stack
Parking Structure Kiosk across from Student Center
Physical Sciences Stores (Monday through Friday 10 am – 11 am)
School of Law Administration - Suite 1000 in Education Building #3
University Research Park - 100 Theory, Suite 110

You will then be provided FIVE NIOSH-certified N95 respirators made by BYD. When not in use, respirators must be stored in a clean, dry area, away from excessive heat, moisture, contaminating gaseous substances, or airborne particulates.

For questions regarding N95s or respiratory protection, contact EH&S at (949) 824-6200 or at safety@uci.edu.